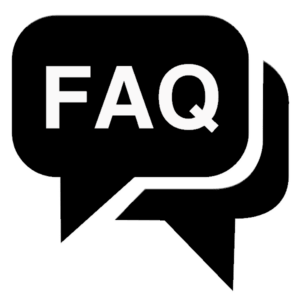 These are some of our most frequently asked questions. If you don't find what you're looking for here, call us!
What are your hours?
The office is open from 8:00AM to 5:00PM Monday through Friday (except major holidays) throughout the year. We are also open on Saturdays from May through October from 8:00AM to noon. The offices are closed on Sundays; however, we will do delivery pick ups and own-picks can be brought back on Sundays during the summer months.
How can I make a reservation?
You can make a reservation in person, via email, or by telephone at 763-753-3711. Proposals and quotes do not guarantee rental availability, rental items are reserved only upon receipt of a signed rental agreement.
What size tent do I need?
Refer to our Size Guide Chart on this website to get a recommendation. Or, contact our office and they will ask you the appropriate questions to arrive at the size that you will need. If you are having an indoor event and are renting tables and chairs, you can still use the Size Guide to help determine the amount that may work best for you.
How many chairs should I order?
Why do you need to drive stakes into the ground for my tent?
There are different styles of tents, but they all have one thing in common: they need to be secured to the surface to keep the tent in place. Without staking, the tent will either collapse or the wind will move it from its site. There are options to weight the tent down for an additional charge depending on the tent size and location.
Does our yard need to be marked before you set up a tent?
Yes. Metro Tent Rental, Inc. will call Gopher One 3-5 days prior to installation to have public utility lines marked. However, it is the customer's responsibility to make sure that any private utility lines are marked; both above and below ground (e.g. irrigation, sprinkler heads, any private lines, fence lines, security irrigation control boxes, cable/internet lines, underground utility lines coming out of the garage or any other building that may be on site.) All line markings must be easily visible. Metro Tent Rental, Inc. is not responsible for hitting any private lines that are not marked.
How far in advance should I begin planning and reserving rentals for my event?
Metro Tent Rental, Inc. has no specific requirement, however, once you have chosen a date and know what you need, do not hesitate to call us and make a reservation.
Do you have a minimum order?
No minimum order required. Please note we do have a $150 minimum DELIVERY order (before tax and delivery) for all customers.
Is delivery and set up available?
Absolutely. We specialize in delivery and set up, ensuring your items are delivered as you requested. Please check with us regarding delivery and set up fees. Our standard rates apply during normal business hours (Monday – Friday, 8:00AM to 5:00PM). Deliveries or pickups scheduled outside these hours are available at an additional cost. There are items that you can pick up and return yourself, if you wish to do so. Call Metro Tent with any requirements for set up and take down questions
Do I need to be present when Metro Tent Rental, Inc. delivers or picks up equipment?
As long as we have a signed contract and have gone over all details prior to installing, you do not need to be present. We do need a phone number where you can be reached on the day of your delivery or pick up. If you have any private utilities (i.e. sprinkler system), you are responsible for marking those areas – and it is suggested that you are present to point out these areas so that our stakes do not damage any of these utilities which we are not responsible for.
How do you handle payment?
Cash, check or credit card is accepted. If you are using a credit card we do charge a 3.5% surcharge. (Amex- call us for surcharge rate). A credit card is needed to reserve any item.
Are there any additional charges in which I may incur?
There is a charge of anything carried in excess of 100 feet from the vehicle, backyard deliveries, inside deliveries, up or down steps. Call us if you have any special requests.
You may be charged a hauling fee if your delivery site requires that our staff take an excessive route upon delivery. In addition, upon pick up, if our equipment is not found in the same manner that it was delivered, you may incur a labor charge. If there are any missing, broken or damaged items, you may incur charges for these items (stated on your contract).
Should I rent sidewalls in case it rains?
We do suggest that you reserve them you may add sidewall at the confirmation call but we cannot guarantee that it will be available. However, remember the benefits of sidewall… Could it be chilly and/or breezy? Do you need privacy? Metro Tent Rental will install them for an added charge, or you can choose the "hang it yourself option"
Can I put tents over the driveway or on the concrete?
Yes you can put framed tents and have them weighted. The secured method for securing tents is by driving stakes into the ground per the manufacturer's specs. The customer/renter will assume all damages and responsibility and liability that may occur from the tent being weighted. There will be additional charges are for weights
What is your cancellation policy?
Canceling your order or removing items from your order will result in the following fees:
More than a 30 day notice, forfeit 25% of total equipment costs.
Within 30 days of event, forfeit 50% of total equipment costs
Within 72 hours prior to delivery, forfeit 100% of total equipment costs
Are there times when weather might impact setting up or taking down tents?
We certainly do our best to keep an eye on the weather. We might need to set up early or take down early due to weather. Wind speeds exceeding 30mph, lighting, hail or extreme cold may delay or cancel set up or take-down, remember this is Minnesota and we cannot control the weather.