Count on Metro Tent Rental for all of your table rental needs.
Choose your favorite look from our extensive table inventory.
Rent a Table for Your Next Event from Metro Tent Rental
From weddings and graduations to anniversary and birthday parties, Metro Tent Rental has your table rental covered. We carry an extensive variety of rental tables to meet any party's size, look, and budget. Get in touch with us to discover your table rental options.
Metro Tent Rental serves communities across the Twin Cities metro area, including Maple Grove, Minnetonka, Roseville, Bloomington, and Woodbury. Depending on the size and type of celebration, our expert, local team will help you find the type and number of tables you need.
Metro Tent Rental offers convenient and affordable pickup and delivery options for your table rental. If you're throwing a small gathering, you can choose to pick up your tables from our Elk River location. Or, we can deliver and set up your tables at your home or venue.
Looking for other rental equipment to round out your party? Metro Tent Rental also offers tents, chairs, dance floors, bars, and other items you need to make your event a success. Whatever your needs, we've got you and your guests covered.
Renting Tables for a Wedding
Metro Tent Rental offers a wide variety of tables to accommodate your wedding guests, buffet, bar, cake, gifts, and anything else you're planning. Choose from banquet tables or 60-inch rounds for your reception, high-top cocktail tables for your cocktail hour, and serpentine tables for your buffet, cake, and gift tables. When you need to rent tables for your wedding, we have you covered.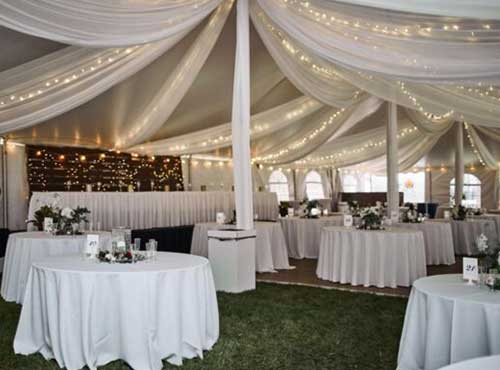 Renting Tables for a Party
Backyard bash or formal anniversary party, Metro Tent Rental has the table rental options you're looking for. Rectangular banquet tables and 60-inch rounds are great for dinner parties, birthday parties, anniversary celebrations, and graduation parties. We can also provide bar setups and high-top cocktail tables.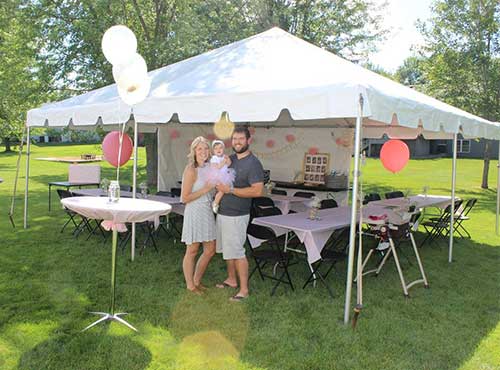 60-Inch Round Table
60-inch round tables accommodate 8 to 10 guests. They are ideal for outdoor garden weddings or large anniversary, birthday, or graduation parties. A wedding with 100 guests would require 13 60-inch round tables. A birthday party with 30 guests would require four tables.
Banquet Table
Banquet tables are eight-foot long rectangular tables. They are ideal for dinner parties as well as tables to hold gifts, food, and other items your party requires. A wedding with 100 guests would require 13 banquet tables. A birthday party with 30 guests would require four tables.
Serpentine Table
Versatile serpentine tables are useful for buffets, cakes, desserts, and other food displays. Arrange your rented serpentine tables in circles or in a s-curve.
Round Cocktail Table
Round cocktail tables are useful for wedding cocktail hours and other informal parties. Metro Tent Rental offers 30-inch round and 36-inch round cocktail tables.
Ice Tables and Fill-and-Chill Tables
Ice tables, chill tables, fill-and-chill tables . . . whatever you call them, these tables are helpful for keeping perishable food chilled. Use them for your salad bar, cold desserts, or beverages. Metro Tent Rental's chill tables can hold up to 75 pounds of ice.
Table Linens and Skirting
Need linens and skirts for your rental tables? Metro Tent Rental has you covered. We offer linens and skirting in a variety of colors for all of our table rentals. Get in touch with us to explore your options.
Here are a few of the frequently asked questions we get about our table rental services.
How far in advance should I begin my table rental?
Metro Tent Rental, Inc. has no specific requirement, however, once you have chosen a date and know what you need, do not hesitate to call us and make a reservation.
How many tables should I rent?
The number of rental tables you need depends on several factors, including the length of your guest list, the size of your venue, and whether or not you're offering food and drinks. Learn more on our seating guide.
Is delivery and set up available?
Absolutely. We specialize in Maple Grove delivery and set up, ensuring your items are delivered as you requested. Please check with us regarding delivery and set up fees. Our standard rates apply during normal business hours (Monday–Friday, 8:00AM to 5:00PM). Deliveries or pickups scheduled outside these hours are available at an additional cost. There are items that you can pick up and return yourself. Call Metro Tent at 763-753-3711 with any requirements for set up and take down questions.
Is there a minimum number of chairs I have to rent?
No, we don't require a minimum order. We do have a $150 minimum on delivery orders (before tax and delivery) for all customers.
Do I need to be present when Metro Tent Rental, Inc. delivers or picks up equipment?
As long as we have a signed contract and have gone over all details prior to installing, you do not need to be present. We do need a phone number where you can be reached on the day of your delivery or pick up. If you have any private utilities (i.e. sprinkler system), you are responsible for marking those areas. We suggest you are present to point out these areas so that our stakes do not damage any of these utilities which we are not responsible for.
How do you handle payment?
We accept cash, check, or credit card. If you are using a credit card, we do charge a 3.5% surcharge. (For AmEx, call us for the surcharge rate). A credit card is needed to reserve any item.
What is your cancellation policy?
Canceling your order or removing items from your order will result in the following fees:
More than a 30 day notice, forfeit 25% of total equipment costs
Within 30 days of event, forfeit 50% of total equipment costs
Within 72 hours prior to delivery, forfeit 100% of total equipment costs
Reserve Your Tent Rental Today
Contact our professional team today to reserve your party tent, tables, chairs, and other
equipment.